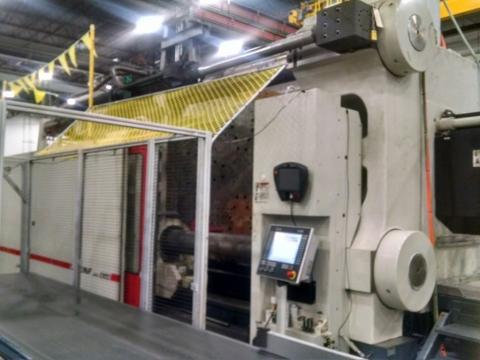 X
Quote Request
2014 Cincinnati Milacron - 2300 Ton
2014 Cincinnati Milacron
2300 Ton | 362 oz
General Specifications
Year
2014
Brand
Cincinnati Milacron
Tonnage
2300 Ton
Shot Size
362

oz.

Region
Model Number
Maxima G servo 2300-362
Type
horizontal
Options & Upgrades
Bimetallic Barrel X102, Air Eject 2 Stage one on Movable Platen one on Stationary Platen, Core Pull 2 Stage one on Movable Platen one on Stationary Platen, Hydraulic Mold Gate 6 valves w/ limit switches,
Machine Notes

Additional Options: E Drive extruder, E Drive Motor Position, optional E Drive electric cabinet, swivel for feed screw removal, transformer for hot runners, nozzle shut off, non-operator side tie rod pulling option, hot runner control box


Maxima G Servo offers reliability, precision, versatility and energy-savings at higher tonnages. The all-electric machine provides up to 60% energy savings over similar machines, with a reduction in molding costs, heat load on the factory floor and maintenance costs.

Maxima G Servo features high-temperature stability, a twin cylinder injection unit, standard barrel swivel and precise linear guide-ways. Its servo motor design provides improved repeat ability and reduced energy consumption, and low operating noise.

The servo system only delivers flow as it is needed, preventing unnecessary generation of heat and significantly reduces oil cooling requirements. The life of seals and hydraulic components are increased, oil life is enhanced, and radiated heat load on the factory is reduced.
Technical Specifications
Clamp
Tie Bar Distance
79.30"

inches

x

63.60"

inches

Platen Size
102.40"

inches

x

86.6"

inches

Daylight Min
27.60"

inches

Daylight Max
145.70"

inches

Core Pull Sequences
Yes 1 on movable and 1 on fixed platen
Types of Controls
Mosaic 2.0
Voltage
460
Dimensions
47.21'

ft

x

15.95'12.28'

ft

x

ft
Condition
| | |
| --- | --- |
| Overall Condition | Excellent |
| Barrel & Screw | Excellent |
| Hours | 21,250 |
| Condition Notes | E Drive extruder, E Drive Motor Position, optional E Drive electric cabinet, swivel for feed screw removal, transformer for hot runners, nozzle shut off, non-operator side tie rod pulling option, hot runner control box, Bimetallic Barrel X102, Air Eject 2 Stage one on Movable Platen one on Stationary Platen, Core Pull 2 Stage one on Movable Platen one on Stationary Platen, Hydraulic Mold Gate 6 valves w/ limit switches |